It was a strange spring, with the entirety of it spent working from home and contemplating life under lockdown from a global pandemic. But now it's officially summer! And I'm welcoming it by breaking through my creative block and making my first project with items from the brand new annual catalog, specifically the Forever Greenery Suite.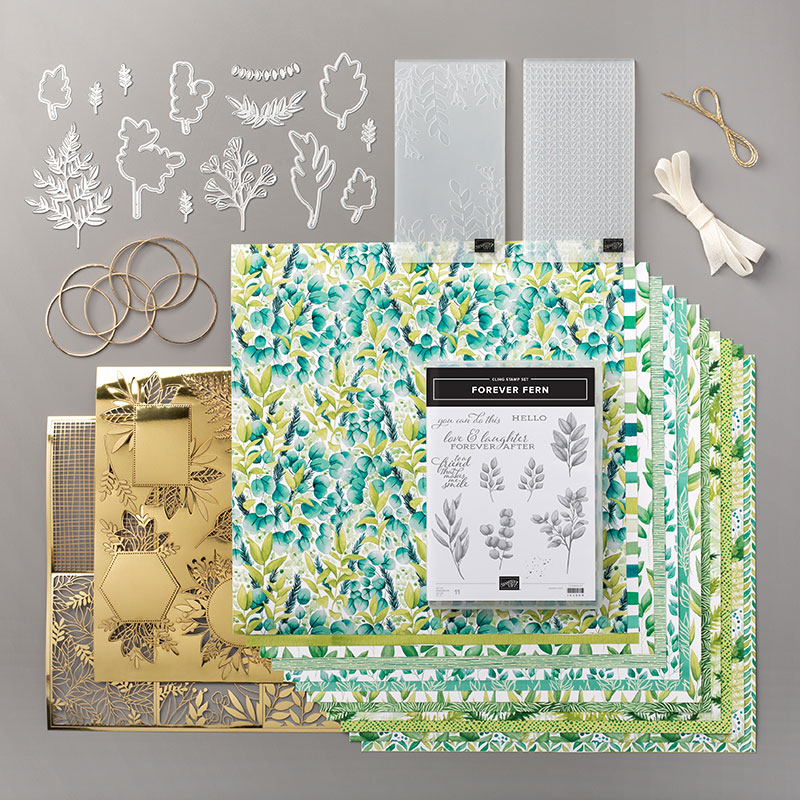 This suite has been so popular that a few of the embellishments quickly sold out of inventory and went to back order status. So. I'm focusing on what I do have while I wait for the rest, the stamp and die bundle, Forever Fern; the mini greenery embossing folders; and forever gold lasercut paper.
To get my feet wet with this set I cut out several of the die shapes in every color of green cardstock that I have. Then I selected a color scheme that reflected the richness and brightness of summer greens (garden green, granny apple green, mint macaron, pear pizzazz, shaded spruce). I went with a mostly white background to let the greens really stand forward.
This image zooms in to show you the textures involved. The embossing folder on white, overlayed onto a piece of pretty peacock and sentiment stamped also in pretty peacock, some gold heat embossed messy dots, the vartiey of green diecuts, with a few gold lasercut pieces interspersed. I'm thrilled with how this card turned out. I have plans to show off this suite in new arrangements and color schemes for each season. So, stay tuned for that. I might even give you a preview over on my facebook page!
Let me know what you think in the comments below or over on my facebook page. See the sidebar or my about page for how you can place your order with me for the supplies linked in this post.  Don't forget to subscribe to my blog to get exclusive content delivered straight to your inbox!